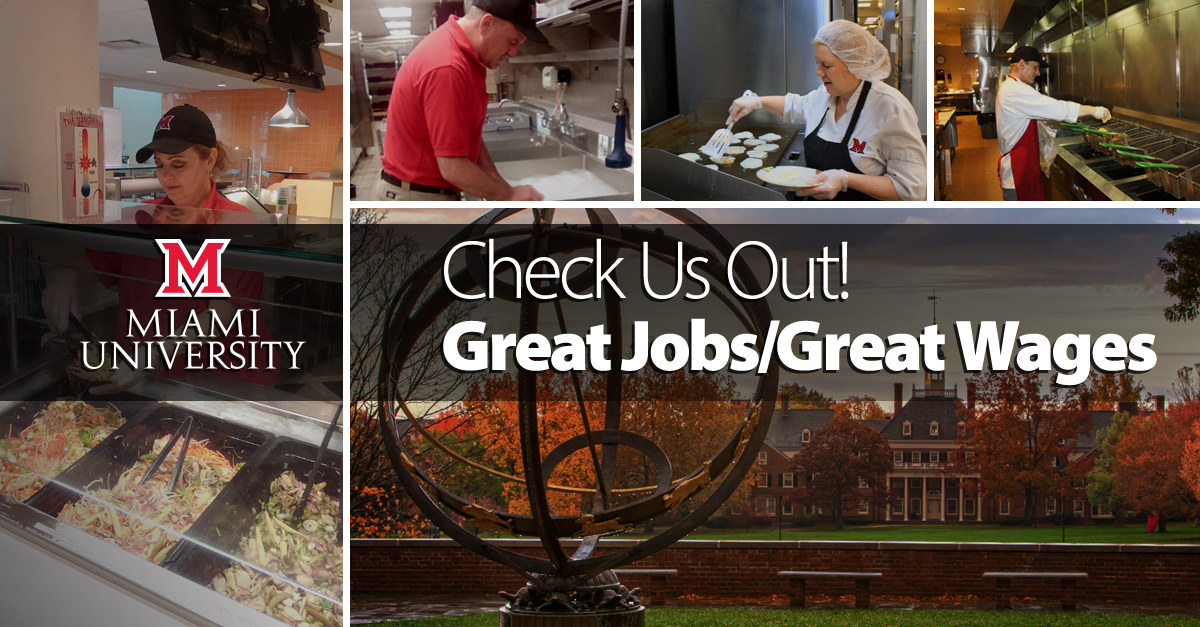 Miami University is Hiring
Cook at $14 per/hour 
Job no: 

496772

Department: Housing Dining Recreation & Business Services
Location: 

Oxford, OH

Categories: 

Food Services

Status: Full Time
Temporary: No
Job Summary:
Prepares a wide variety of foods in large volume production quantities. Assists in providing guidance to other employees in the performance of their duties. Responsible for preparing and/or directing the preparation of food to be served complying with all applicable sanitation, health, and personal hygiene standards while following established food production programs and procedures.
Duties/Physical Demands:    
Operates standard institutional cooking and food preparation equipment in the preparation of food serving.
Prepares, cooks and coordinates the preparation of hot and cold menu items by following standard recipes, production specifications and scheduled serving times.
Coordinates efficient work flow and instructs others in the proper use of equipment and utensils.
Maintains records of work performed, food temperatures and ingredients used, prep lists, SLWS, yield reports and recipe modification documentation; performs basic mathematical calculations and records information as needed.
Maintains clean and sanitary work, kitchen and dining areas and observes strict safety rules.
Maintains all food items at proper temperatures as instructed; follows the Ohio Revised Food Code for food safety to maintain health and sanitation standards.
Maintains surfaces, utensils, and equipment in a clean and serviceable condition.
Responds to client requests for service, special diets, as well as other information in a friendly, professional and helpful manner.
Maintains high quality of food prepared and served (including timed and batch cooking principles) to assure products are ready for continuous service.
Assists with providing guidance and training for the Assistant Cooks. May instruct Assistant Cooks in proper use and care of institutional cooking and food preparation and equipment.
Performs other related duties as required or assigned
Minimum Qualifications:
High School diploma or GED
One year cooking experience in a full service operation or two years experience in other food service operation
Successful completion of the department's Culinary Training Program or comparable training experience within two years of hire/promotion
Current level 1 Food Safety Protection Certification, or ability to obtain the Level 1 Food Safety Certification within 4 weeks of hire/promotion
Ability to pass POPE physical up to 50 lbs.
Abilities to exert well-paced mobility for periods of up to 4 hours and other listed under working conditions
Knowledge of commercial kitchen equipment proper usage, including knives
This position requires the ability to successfully pass a POPES physical and background check.
Desired Qualifications:
High School diploma or GED
Food Safety Level 2 Certification
Certificate or Degree from a Culinary Arts Program
Ability to taste, smell, and visually differentiate colors
Ability to read, write, and clearly communicate English
Knowledge, Skills and Abilities
Ability to add, subtract, multiply and divide whole numbers Ability to work with ratios Ability to read and write simple sentences (including recipes, labels, schedules and memos) Knowledge of basic food preparation techniques including sautéing, display cooking, deep frying, grilling, roasting, baking and steaming Ability to weigh and measure ingredients Ability to properly use knives and standard kitchen equipment Knowledge of storage and handling Ability to understand and follow directions Ability to communicate information so others will understand Knowledge of principles and processes for providing customer services, including meeting quality standards and evaluation of those standards Ability to prioritize and work independently with appropriate amount of supervision Must be able to evaluate information to determine compliance with standards, provide information to supervisors, coworkers and subordinates Ability to inspect equipment or materials to identify the cause of problems or defects Ability to develop specific goals and plans to prioritize, organize, accomplish work and meet deadlines Ability to analyze information and evaluate results to choose the best solution and solve problems
Working Conditions/Physical Demands:
Constant standing. Frequent stooping, pushing, pulling, walking and simple grasping. Occasional bending, squatting, twisting, and use of motor skills that require firm grasping, and fine manipulation. Minimal sitting and climbing. Occasional lifting of up to 50 pounds. Minimal lifting of and carrying/transporting materials weighing up to 35 pounds. Minimal overhead lifting up to 25 pounds. Ability to work in high or low temperatures. Some element of personal risk due to hot surfaces, wet surfaces, greasy surfaces and cutting equipment
Express your interest in this position by completing the form below
Special Instructions to Applicants:
Pre-employment drug testing may be required for this position.
EO/AA Statement/Clery Act:
Miami University, an Equal Opportunity/Affirmative Action employer, encourages applications from minorities, women, protected veterans and individuals with disabilities. Miami University prohibits harassment, discrimination and retaliation on the basis of sex/gender (including sexual harassment, sexual violence, sexual misconduct, domestic violence, dating violence, or stalking), race, color, religion, national origin (ancestry), disability, age (40 years or older), sexual orientation, gender identity, pregnancy, status as a parent or foster parent, military status, or veteran status in its recruitment, selection, and employment practices. Requests for all reasonable accommodations for disabilities related to employment should be directed to ADAFacultyStaff@miamioh.edu or 513-529-3560.
As part of the University's commitment to maintaining a healthy and safe living, learning, and working environment, we encourage you to read Miami University's Annual Security & Fire Safety Report at: http://www.MiamiOH.edu/campus-safety/annual-report/index.html, which contains information about campus safety, crime statistics, and our drug and alcohol abuse and prevention program designed to prevent the unlawful possession, use, and distribution of drugs and alcohol on campus and at university events and activities. This report also contains information on programs and policies designed to prevent and address sexual violence, domestic violence, dating violence, and stalking. Each year, email notification of this website is made to all faculty, staff, and enrolled students. Written notification is also provided to prospective students and employees. Hard copies of the Annual Security & Fire Safety Report may be obtained from the Miami University Police Department at (513) 529-2223.

Miami University offer great pay and comprehensive benefits.