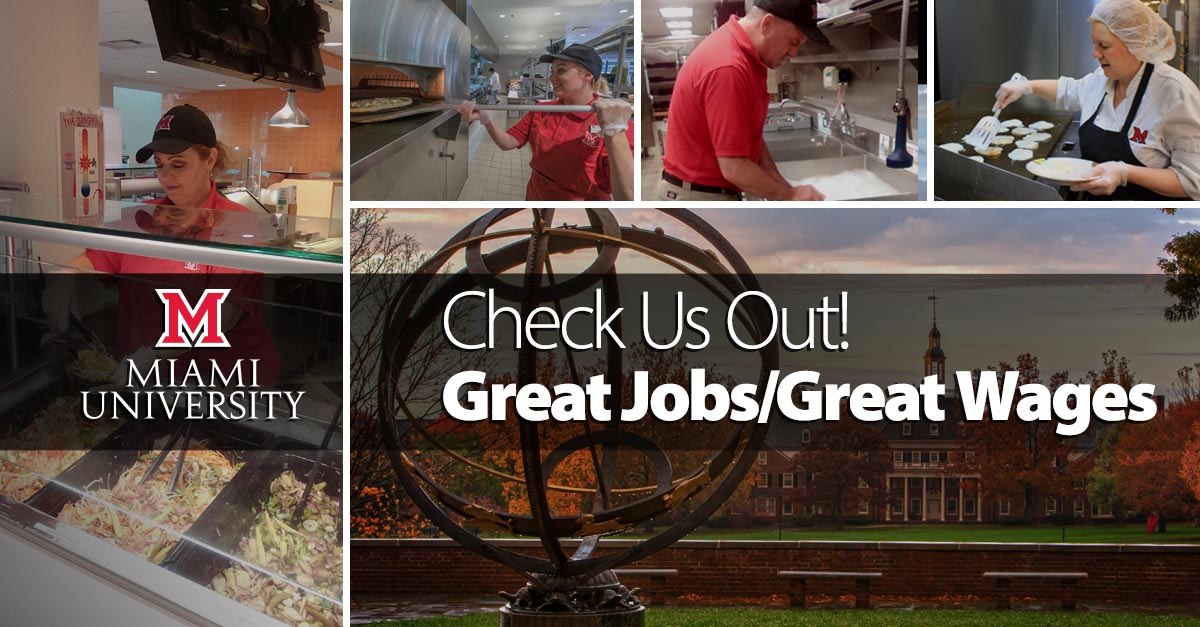 Miami University is Hiring!
Open Interviews
Thursday, September 23rd
10 am – 4 pm
424 Wells Mill Dr, Oxford, OH 45056
Join our Team!
Please go online, click on open position in which you are interested.
All positions require a high school diploma or GED, the ability to successfully pass a POPES physical and criminal background check
Benefits for FT positions include:
Tuition Fee Waiver
Health Care Coverage
On-site Health Clinic
Paid Holidays
Retirement Plans
For faster contact, express your interest in one of these positions
by completing the form below
Always Learning…
Always Working…
Always Safe!
For additional information, please call one of our HR team members at 513-529-3131
COVID 19 contact monitoring and tracing
Daily Temperature checks
Safe distancing in your work environment
Personal Protection Equipment
Miami University, an EO/AA employer, encourages applications from minorities, women, protected veterans and individuals with disabilities. Miami does not permit, and takes action to prevent, harassment, discrimination and retaliation. Requests for reasonable accommodations for disabilities should be directed to ADAFacultyStaff@MiamiOH.edu or 513-529-3560. Annual Security and Fire Safety Report may be found at: http://www.MiamiOHedu/campus-safety/annual-report/index.html. Criminal background check required. All campuses are smoke and tobacco free.


Miami University offers great pay and comprehensive benefits.